Nokia N97

The family could expand N
So that there are already models N70, N90 and N91, remember, last September, we presented the Nokia N95, the Pearl's multimedia, with advanced features (five megapixel sensor, compatible EDGE, 3G and 3 , 5G, Bluetooth etc).

Some rumors are circulating today about a N97, which as its name suggests, should still be on top of the range N95 mobile stamped "N". It is still unclear whether the N97 will be the replacement for the N95 or if both models coexist in the range.

Anyway, this would allow the firm to maintain its position of dominance in technical features embedded in mobile phones. Especially in parallel, Nokia continues to increase its sales because earnings growth was recorded for the third quarter of 2006.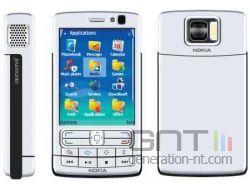 Rumors of N97
As would happen the next mobile 'Or rather should we say this "mini-Tablet PC! You think we exaggerate '

That is what make you change your mind: this phone is expected to include a HDD 20 GB (!), Speakers with 3D effect, a photo sensor with five megapixel optical zoom 2.4 x.

And that's not all. The screen offers a diagonal of 3 inches (7.62 cm) and display 16.7 million colors. The radio is clearly the game, and a port for mini SD memory card. Autonomy later, the company could hit hard here, too: an autonomy of almost 400 hours standby, 4 hours of talk time and a player who could endure 24 hours without recharging.

Characteristics of insanity, which, remember, however, have nothing official, Nokia did not release to date about his new monster. The photos above, from Engadget, are also not official and some differences could be observed on the final format.

No information either on the price, but you can be sure that it should be commensurate with the characteristics of the beast.